1953
"Sansei Koki Co., Ltd.", the predecessor of "GOKO Camera Co., Ltd.", was established by Tadashi Goto when he was 27 years old (Capital: JPY500,000). The challenges and struggles that Tadashi Goto experienced in the early days brought about following three principles that have consequently guided the company throughout 60 years.
3 Principles for a "Simple but Brilliant" company – Settled by the Founder Tadashi Goto
Stability Before Vanity. – We eliminate any vanity from management with thorough Management's rationalization. Tadashi Goto witnessed many companies that succumbed to bunkrupcy due to the leader's overconfidence with minimal success which made him determined to build a company which is "so strong that it would not bunktrupt".
Produce only what we develop. - We never do jobs under subcontracts. – Tadashi Goto considers that there is no true profit in subcontracts without any distinctive competency of its own.
Business with no debts. - We keep the sound constitution with financial strength. – Tadashi Goto witnessed many companies that went bankrupt because of having excessive expectancy with financial institutions. Concequently, he considered that financial institutions could not be the final friend of companies.

We still keep these principles until today.
1960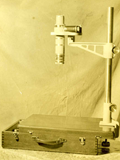 Because of the technology innovation, we changed our leading product to 8mm film editor from camera copy stand, interchangeable lens for 8mm, all-purpose finder and so on.
"GOKO Camera Iida Co., Ltd.", one of the predecessors of "GOKO International Co., Ltd.", was established.
1962
Tadashi Goto developed "7 methods of Management's rationalization". By adopting these methods, the construction of our company improved radically.
1964
Though severe hardships due to the bankruptcy of our major client, we distinguish ourselves in the field of editors where 10 companies have competed in the world. We developed the editor that can serve both R8 and S8 (Patented) and conquered the world's market at a stroke. Our products monopolized the top three in "Consumers Report".
1967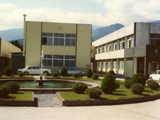 In order to expand business, "Ina factory" was established in Nakagawamura, Nagano Pref. in Japan. Also we took over "Shinyo Denshi Kogyo Co., Ltd." in Iida that was almost bankrupt, seized control and name it as "Sanritsu Koki Co., Ltd.". In the large Ina factory, we succeeded 24-hours unattended molding of plastic parts that we had produced by our own already, which reduced the parts cost drastically. This great achievement was picked up largely in "Nikkei Newspaper" and broadcasted by "TV Asahi (former NET TV)" all over Japan for 30 minutes as the model factory of the rationalization by the recommendation of The Small and Medium Enterprise Agency.
1968
"Sanritsu Koki Co., Ltd." was changed as the high-profit and superior enterprise in local area immediately and drastically which capital-adequacy ratio exceeded much more than 90% due to the Management's rationalization by GOKO.
1971
"GOKO Eizo Kagaku Kenkyujo (GOKO Imaging and Science Laboratory) Co., Ltd.", one of the predecessors of "GOKO International Co., Ltd.", was established.
1976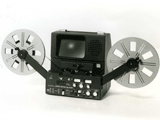 In Ina factory, we succeeded to develop the polisher of 12-facet, 24-facet prism and so on which were essential for Super 8mm Multi Recording / Sound Editor but could not be manufactured by other companies. This made us the one-and-only company that manufactures Super 8mm Multi Recording / Sound Editor. As a result, we captured 100% of world market shares. Continuously, many new technologies were created in our Ina factory which became our "Mecca" of rationalization.
1980
We were honorably listed as one of "70 top companies which monopolize market share in the world" in a New Year issue of the "Weekly Diamond" along with many major companies.
Above 20 years is the first Golden Age of GOKO Group.
However, "Clouds always follow the sunshine." By the rise of the video, the industry of 8 mm editors dropped immediately. Bankruptcies and insolvencies of world's famous companies had been reported in 8 mm industry in Japan and all over the world. Naturally, the orders to our company fell to one tenth in one and a half year. Although we have enough financial strength due to keeping "three principles" and do not have anxiety in our management structure, we seriously devoted ourselves in the development of new products.
1981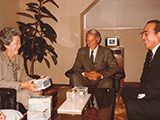 What we were finally able to place on the market as our new product was "compact camera" after the struggles of the development of 8 kinds of new products. People were surprised to see that we had overcome difficulties to enter into new market even with gaining profits during this period. Our achievement was praised and called the "Seven Wonders in the industry" or even the "Miracle".
1982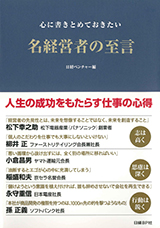 In those days, cameras had very limited market that major companies monopolized. The cameras in those days which were especially made by Japanese manufacturers were high-end and thus very expensive, and the market was focused on the people only in developed countries which was 13% of the global population. Tadashi Goto was aware of this fact and it encouraged us to target the other 87% by producing popular-type cameras. This concept of Tadashi Goto helped us to find the majority of the global market which was consequently published in this book "A Collection of the Sayings of Great Managers" that was published by Nikkei BP along with prominent managers such as Konosuke Matsushita and Soichiro Honda.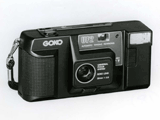 "UF-2" - Universal Focus - model was developed, having special method that can focus both near and far despite of being its fixed focus feature. It was praised and called as "Excellent Tool" by a development manager of a famous Japanese camera manufacturer that profess themselves as No.1 in the world. Later on, our "UF-2" became the standard of popular-type compact cameras in the world.
1984
The 30th Anniversary Celebration was held in Hafadai Hotel in Saipan with the participation of all the staffs.
1985
In hopes of developping countries using high quality cameras, we launched production in China, Korea, Taiwan, India, Brazil, Indonesia and so on with local companies during this period to contribute the productions of cameras in developping countries. Actually we are the very first to develop a partnership with Chinese government as a joint venture after the Cultural Revolution in China to instruct our know-how of producing cameras. Additionally, we were requested to open the factories in Hungary and Russia as well although they were not come true. GOKO is one of the very few companies that has the experience of the production in this many countries.
1988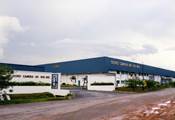 Almost every Japanese famous camera manufactures gave us the requests of OEM of compact cameras. By the rapid increase of the orders, we build our factory in Malaysia which became our main factory.
1989
We changed our name as "GOKO Camera Co., Ltd." to respond to our business profile.
1993
The production of cameras increased rapidly and reached 450,000 units per month, 4,200,000 units per year, and was valued as the "No. 1 amount of production in the world" in "Nikkei Business", for August 5th and 12th in 1991 issue. The sales of the Group have reached JPY 230,000,000. On the other hand, many companies showed the miserable condition by the burst of the "bubble" economy, but our company had exceedingly smoothed sailing and declared huge profit by receiving the benefit of being unrelated to "bubble" completely and non-debt management.
This is the Second Golden Age of us.
In this period, the Minister of Education Mayumi Moriyama and many kinds of organizations of managers visited our Malaysian factory succeedingly.
Tadashi Goto was awarded as the "Distinguished Manager – International Contributor Award" sponsored by "Nikkan Kogyoshinbun" newspaper and was respected for the productions in 8 developing countries.
1996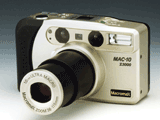 During this period, popular-type cameras were started to be produced in Taiwan and China by low employee cost. We, then, had to move into middle-class models. We held our policy, "We develop and make the products with our own technology that other company's products never have" and developed the very world-first compact camera, the "MacromaX" that can take ultra-close-up shooting of 10cm without any attachment. "MacromaX"(the standard model and the zoom type model) was selected as one of "Japanese Historical Cameras" and also as one of the most interesting 3 products in "Photokina", the largest camera exhibition in Germany by President of German camera magazine honorably.
1998
During this period, the digital cameras rose and entered into the market, which suggested the future direction of the camera industry. It was also forecasted that the electrical machinery industry was entered into the fierce battle of the digital camera industry. Tadashi Goto judged that there seemed little future that we can contribute to and made a big turnaround from camera business.
2000
We dared to reduce the camera business drastically and turn our main force to domestic industry. It was a big and not an easy change for us because it was a turnaround from the sales products of JPY230,000,000 at peak period. Thanks to our "3 principles", our company had kept enough financial strength to survive and change business without any debt; while many other companies in camera industry fell into alarming situations during that period.
2002
Memorable year for us that we put the big turnaround into practice.
We united "GOKO Camera Co., Ltd." and "GOKO Co., Ltd.". We launched to produce special optical devices for various business fields such as medical field and reduced manufacturing cameras which we have mass-produced. Additionally, we decided to branch out to agriculture. We stopped Ina factory and built a large glass house of 23,000 square meters in the ground of 53,000 square meters which is one of the largest agricultural factory in Japan by JPY1,000,000,000 at our own expense. We aimed to produce 800 tons of tomatoes per year as the Agriculture Div. In this Agriculture Div., we maximize our experience in camera business to put our Management's rationalization to Japanese agriculture which Tadashi Goto has worried about its decline for a long time.
"GOKO International Co., Ltd." was started to manage some domestic real estates and invest in and finance another companies by maximizing the surplus of capital as well as foreign properties.
"GOKO Iida Co., Ltd." utilized the site of the former factory and construct 3 buildings of high-end condominiums and shopping centers. It changed its business to the property management.
"GOKO Malaysia Sdn. Bhd." purchased the land of approx. 1.7 million square meters in the east coast by the recommendation of Malaysian Government and built 330 ponds of fish - 100 meters * 100 meters per pond – for the farming of black tiger prawns.
2005
We enlarged and arranged the businesses properly aiming the succession of businesses in future.
"GOKO Camera Co., Ltd."

Imaging Div. develops, produces and sells various kinds of special imaging devices for the use of medical and optical measurement.
Agriculture Div. establishes the processing factory together with the tomato factory and produces various kinds of agricultural products. The whole factories were named as "GOKO Tomato Mura" (GOKO Tomato Village) and aimed to enlarge themselves further.
To invest in other companies by surplus fund.
"GOKO International Co., Ltd."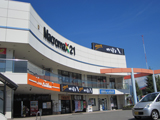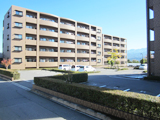 To combine with "GOKO Camera Iida Co., Ltd." and enlarge the management of real estates such as condominiums, shopping centers and factories for rent.
To combine with "GOKO Malaysia Sdn. Bhd", arrange and dispose some local business and local real estates in order.
To establish "International Business Div." newly.
To start to invest and finance other companies.
2006
In order to forward the succession of the businesses more fluently,
In "GOKO Camera Co., Ltd.", Tadashi Goto (former President) took on being the Chairman & CEO; Yoshiko Goto was appointed as the President; Takashi Goto as the director.
In "GOKO International Co., Ltd.", Tadashi Goto remains as the President & CEO; Tomoko Goto was appointed as the Director & Manager; Hideko Goto was appointed as the Director.
All companies of GOKO Group build the new order together by keeping "3 Principles of management" for "Simple but Brilliant", which have been observed strictly for more than a half century now.
Stability Before Vanity.
Produce only what we develop.
Business with no debts.
2011
The processing factory is enlarged to respond the increase and diversification of food processing in GOKO Tomato Mura (GOKO Tomato Village).
2015
In "GOKO International Co., Ltd.", Tadashi Goto assumed the role of Chairman & CEO, and Tomoko Goto was appointed as the President.
2017
GOKO International Co., Ltd. founded the Imaging Division to make further expansion of GOKO's Imaging business taking it over from GOKO Camera Co., Ltd. The decision was made by GOKO Group because it would be more practical that the Imaging Division is to be managed in Tokyo/Kawasaki, while the Agriculture Division of GOKO Camera Co., Ltd in Nagano pref. is getting very active.
2018
GOKO International Co., Ltd. changed its name to "GOKO Imaging Devices Co., Ltd. in order to further expand the imaging business, which the GOKO Group has traditionally focused on.
2020
For the purpose of further development of the Agriculture Division, GOKO Camera Co., Ltd. established a new company "GOKO TOMATOMURA Co., Ltd." as the company incorporated in an incorporation-type split, and then changed its name from "GOKO Camera Co., Ltd." to "GOKO Co., Ltd."